How I Brought My Nose Back to Life
When you lose your sense of smell, everything from coffee to sex is just not as much fun. After a year of suffering, a rigorous regimen of smell training brought it back.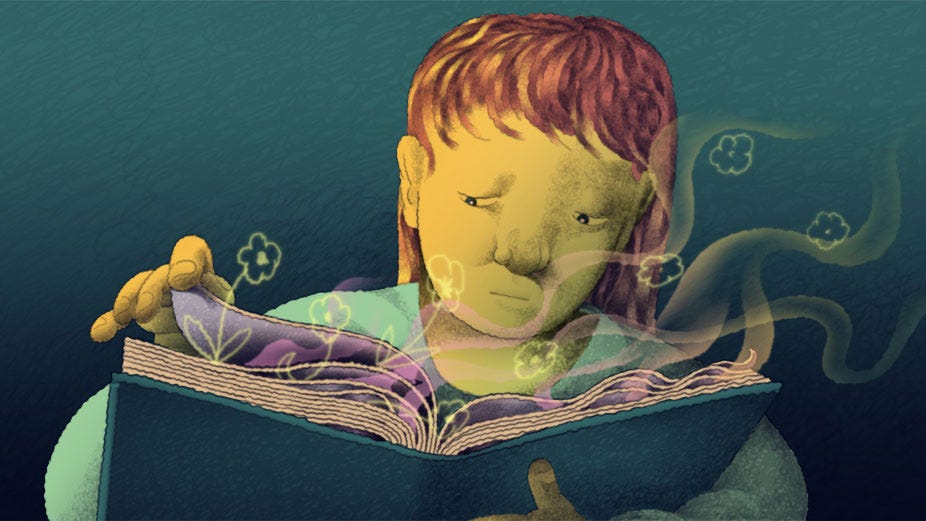 Illustrations by Alvin Fai
The virus hit me the summer of the great American eclipse.
I'd caught one of those super-strength germs when I was visiting my mother in the hospital. The night before the eclipse, when the moon passing between the Earth and sun would turn day into night, I'd ordered in vindaloo in an attempt to chase away the last vestiges of the virus. My eyes teared and my sinuses dripped, but there was no flavor to my food at all. Just a cold, I thought. But it seemed like my symptoms should have already subsided.
I thought I was lucky to find an eclipse viewing spot on the concrete steps in the crowded plaza outside of my office building. A woman with a pinhole camera fashioned from a single-serve cereal box caught my eye and pointed toward the trash can nearby, then held her nose. I didn't smell a thing. Astrologers say eclipses show us things in a new light, and by the time the sun was obscured, I realized that my ability to taste and smell had been eclipsed from my life.
Keep reading with a 7-day free trial
Subscribe to
Narratively
to keep reading this post and get 7 days of free access to the full post archives.